How to Disable Applications on a Xiaomi Phone You Don't Need, In 2018 ago, Xiaomi managed to rank fourth in the world and second in India. Of course, this is a proud achievement for Xiaomi during its struggle over the past few years.
But sometimes Redmi users are often annoyed with the presence of bloatware (the default HP application) that is annoying because it consumes internal capacity and RAM even though it is not used.
For this reason, many Xiaomi smartphone users are curious to deactivate this useless application so as not to consume too much RAM capacity. Well, for those curious Gadgets who want to deactivate the application, you can see the tutorial as follows.
How to Disable Applications on Xiaomi Phones
First, the gadget can turn on the smartphone or Xiaomi phone first
Next, the gadget can open the application or the Settings menu
On the Settings page, Gadgets can choose Installed Apps
Then enter the Manage Apps page, Gadget can choose the system application to be deactivated
For example, I tried to deactivate the Browser application
Next, I select the Browser application and it will move to the Browser information page
At the very bottom, the gadget can directly choose Disable
Furthermore, the application will automatically switch off on Xiaomi phones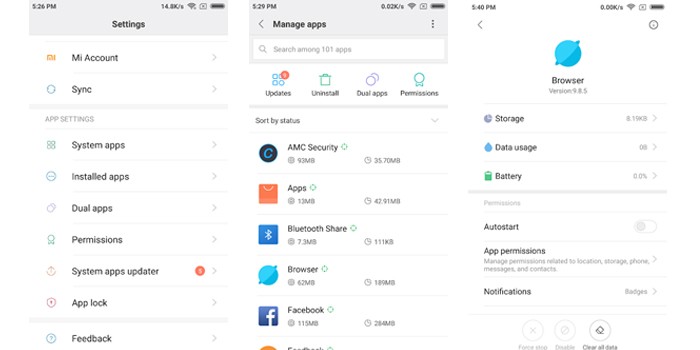 For the record, applications that can be deactivated on Xiaomi phones are usually the default applications that have been around since the beginning of the purchase because usually the applications that are installed themselves can still be uninstalled or installed as desired by the user.
But Gadget must be careful not to mistakenly disable applications on Xiaomi phones because some of them are applications for system components. If the system component's application is disabled, it will usually have a fatal effect on the operation of the operating system. Even it will often hang when it is wrongly deactivated.
Meanwhile, if the gadget wants to reactivate the disabled application then it can return to the Installed Apps page found in the Settings menu. Later Gadget can choose the desired application, such as a browser.
---
---
After the Browser info page opens, the gadget can directly press the Enable button to reactivate it. You could say the way this one is very easy to do by beginner Xiaomi users though.
Final Word
According to Infomint, is this one method practical to deactivate the application on the Xiaomi cellphone? But if the gadget has another way to deactivate the application, you can write it in the comments column below. Thank you.